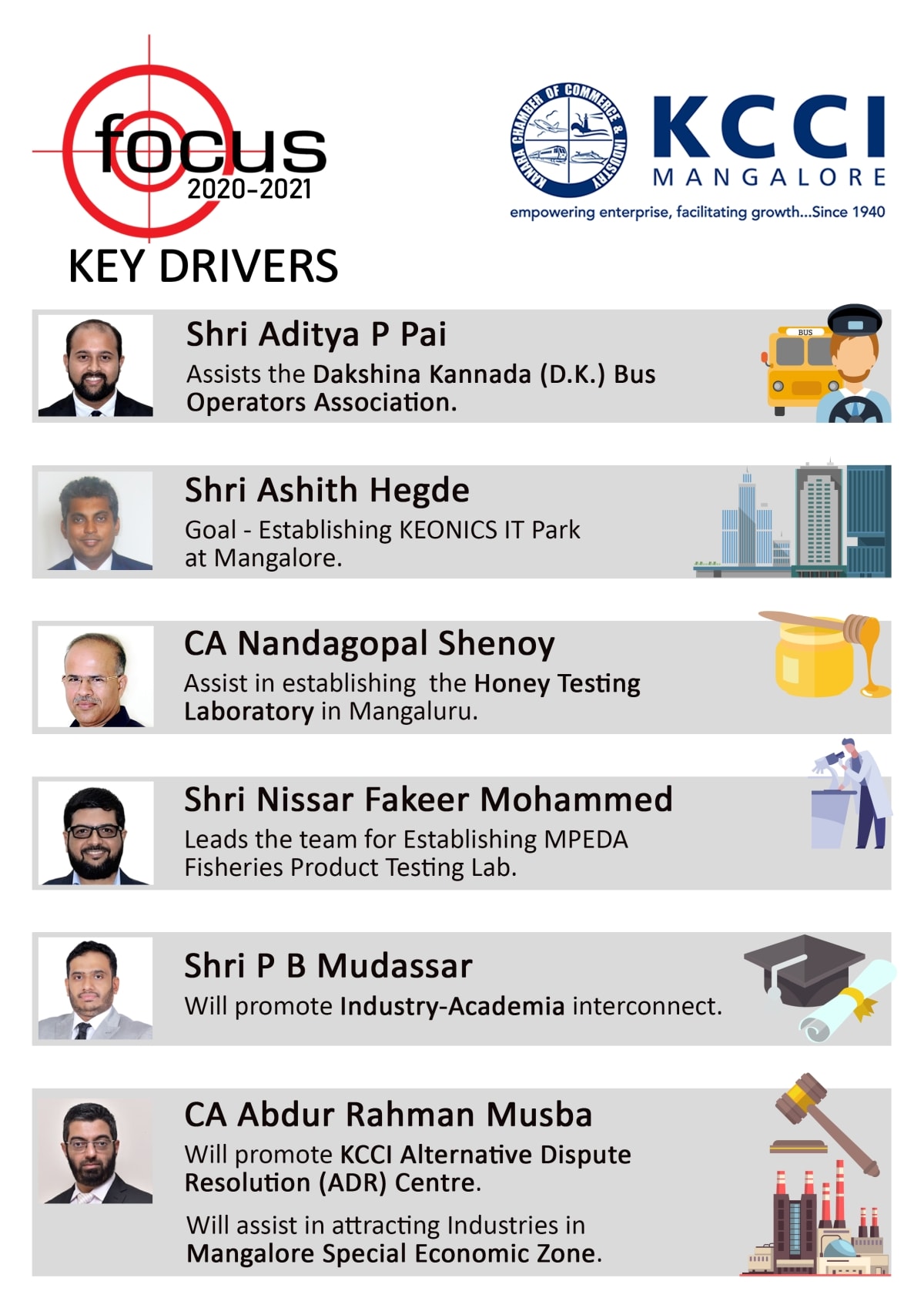 Assist the Dakshina Kannada Bus Operators Association  
The Kanara Chamber of Commerce and Industry (KCCI) is assisting the Dakshina Kannada Bus Operators' Association in making their service more efficient and people-friendly.
The goal is to prepare a detailed project report and highlight critical factors like branding, safety, IT initiatives, Public relations, adherence to stipulations, healthy competitive practices, and discipline.
The teams at MSNM Institute of Management and St Joseph's Engineering College are involved in the planning and executing the project as part of our Industry-Academia programme. 
Establishing KEONICS IT park at Mangaluru 
Last year the focus was to kickstart setting up the IT park in KEONICS land at Derebail. Much groundwork was done, and a detailed project report was created in collaboration with CII, IT industry leaders and Smart City Planning.  Later on, the DPR was presented to MLA, MP, KEONICS Chairman and the Deputy Chief Minister.  This year we want to build on that momentum and ensure that the IT park project gets started and the construction kicks off.  We have conducted a global survey of IT professionals in collaboration with CII and IT leaders in this regard. The effort was to gauge people's mood to know if they were interested in calling Mangaluru home if they were to get the right job opportunities. The result is very positive and has been featured in almost all leading newspapers.  With this survey and the DPR as a foundation, we will continue to engage the political leaders, KEONICS and Smart City planners to come to a common ground and approve the project at the earliest.
 
Once the IT park is approved, we will also start working on marketing Mangaluru's IT infrastructure to global IT companies. We will work closely with them to start companies and set up offices in Mangaluru IT Park to help create employment opportunities.  
Setting up a NABL Accredited Honey Testing Laboratory in Mangaluru
Doubling the income of farmers by 2022-23 is the priority of the Government of India. Most farmers of the western ghat region are also engaged in apiculture as an additional source of income. However, they get lower prices as they are not aware of export potential or placing their branded products in supermarket/ online marketing format. It requires quality certification by an accredited laboratory which is absent in Southern India. As Mangaluru is well connected by road, rail, air and all-weather port, it is ideal for setting up the Laboratory.
Setting up a NABL Accredited Marine Products Testing Laboratory in Mangaluru
Marine products quality certification is necessary for exports by the Government accredited Laboratory (MPEDA/ EIA), which is being presently analysed at Kochi.  As Mangaluru is well connected by road, rail, air and seaport, it is ideal for setting up the Laboratory.
Promoting Industry-Academia interconnect  
As the initiative gained momentum with the Chamber signing MoUs with prominent educational institutions across the city, the Pandemic struck, impeding the anticipated headway that needed be achieved. 
However, with an attempt to tide over the challenges faced, the Chamber now operates on a macro level involving students and faculties of institutions in assisting essential service operators of the city in bringing about a makeover to "Brand Mangaluru".
We are developing an e-platform to promote the existing and new startups of the region in reaching newer markets locally and abroad by leveraging our cluster's unique identity. Also, an emphasis will be made on self-employment by creating a database on readily available technology across institutions of the region. It will primarily focus on ideas that will expedite the development of the region.
Attract industries in Mangalore Special Economic Zone
KCCI, as a promoter of Mangalore SEZ Ltd. (MSEZL), will work in close coordination with the other promoters to attract industries to the SEZ and create job opportunities for the region's youth. MSEZL has a vast area of land which is vacant. MSEZL also has a proposal for converting the SEZ land to Industrial Land. Hence, an entrepreneur who would like to set up the land either in SEZ area or Industrial area would be facilitated by KCCI. MSEZL offers various support facilities and amenities for the benefits of the industry. Mangalore SEZ's area has various advantages like reliable power by drawing power from the 220KV MRSS at Mangalore SEZ area, good quality water, good connectivity to the port at the existing industrial area. Further, the MSEZL area is very near the NMPT port and the Mangaluru International Airport.
 
Promote KCCI Alternative Dispute Resolution (ADR) Centre
We are promoting the KCCI Alternative Dispute Resolution (ADR) Centre in the Dakshina Kannada region. It is well known that ADR procedures are usually less costly and more expeditious than court cases. KCCI promotes institutional Arbitration, Mediation and Conciliation to resolve the dispute quickly and increase the ease of doing business. India is ranking 163 in the enforcement of contract as per Ease of Doing Business by World Bank. For the last few years, we have improved our ranking in ease of doing business across various parameters. However, the enforcement of contact has not improved significantly, even after bringing the Commercial Court Amendments.
The foreign investors give lots of importance to these rankings—many of the rankings in a one-time measure like construction permit or obtaining electricity. However, enforcing a contract is a continuous goal that is important.
Arbitration is an avenue to help in enforcing the contract. If we can settle cases quickly, there would be multiple benefits.
As businesses decide not to approach the court for dispute settlement, they will have time to concentrate on their business activities. If arbitration becomes effective, it would be a win-win for business as well as lawyers.
There would be more foreign investment in India which would improve the
the economy of the country.