2022 –
President's Message
M. GANESH KAMATH
PRESIDENT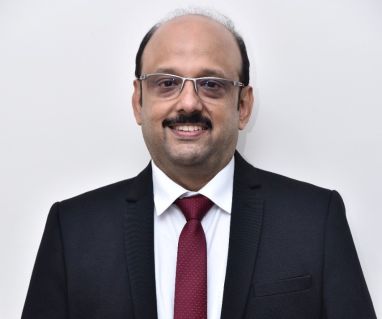 Dear Members,
It is with a grateful heart that I am writing to you, thanking you for having the confidence and trust in me to lead the Chamber for the years 22-23. I, along with our enthusiastic board members, assure you that we will strive our best to uphold the legacy and everything that the chamber has stood for in its 82 years of existence in service to the business and Industries community of Dakshina Kannada.
It is a big relief to all of us that the headwinds created by the pandemic have receded, and the economy is slowly but steadily crossing the pre-covid days' performance in various growth parameters. The tremendous response that the recently held Karnataka Global Investors Meet received from global investors indicates this positive change. Out of the total investment of Rs. 10 lakh crores, the state has attracted Dakshina Kannada has been earmarked for 7 green hydrogen projects with a projected investment of Rs. 2.91 lakh crores. All these figures look good on paper, but we need to see how the government will facilitate and take them forward. As for the green hydrogen projects that have shown interest in being established in DK, will we be able to provide 2 cost-effective factors of production, i.e., land and water, to them is the question? Both are a challenge in our District. The Government announced that seawater would be desalinated and used for these projects but from discussions with the stakeholder, we observe that the present cost for desalination does not seem to be a viable route. As for land these industries need, unless and until we quickly wrap up the Balkunje Industrial Area and make it functional or bring the Jesco land at Baikampady out of the legal tangle it is stuck in, fast-paced industrial growth in our District seems to be a pipe dream. Until then, we should look at growth through the IT and ITES sector, Education, Tourism, Fisheries and Medical Services sector – where we are better equipped.
There seems to be no light at the end of the tunnel as far as connectivity to Bangalore is concerned. We as a people cannot afford to be disheartened. We at the Chamber will not give up our work to highlight these and other issues that need to be attended to to bring back growth to our District. A delegation led by your President met the Dharmadhikari & Rajya Sabha MP Dr. D Veerendra Heggade at his residential office in Dharmasthala. While felicitating Dr. Heggade, we impressed upon him to bear on the powers that be for an early solution to the road and rail connectivity woes that we have been suffering for decades. Our dream is to upgrade our railway track to accommodate Vande Bharat Trains at 150 km per hour. Our dream is to ensure the tunnel project or an elevated corridor cuts short travel time to Bangalore by 3 hours. Skeptics may think it is improbable. We think it is not impossible. Going ahead, it should open a world of economic growth to our district.
The current board members – most of them continue from the previous year, and their experience should make my work lighter, particularly in the focus areas and the new subcommittees of the Chamber. We welcome our new Director, Shri Ashwin Pai Maroor, to the Board. Ms. M. Athmika Amin, Editor of our Journal, and the editorial team have been remarkably contributing to the theme-based editions of our monthly journal. Watch for many new features planned to be included in the upcoming issues.
The Focus Areas for the year 2022-23 are as follows.
1. Promoting Industry Academia Interconnect
2. Focus on Family Business and its growth
3. Establishing an IT Park in Mangaluru / Promoting Startup Enterprises
4. Creating awareness about the KCCI Alternative Dispute Resolution Centre
5. Marching towards Industry 4.0
I profusely thank the Immediate Past President, Mr. Shashidar Pai Maroor, and all Past Presidents for assuring me of all their support and guidance.
Our pledge to the industries and commerce fraternity of our District to empower industries and facilitate growth will always remain evergreen
M. Ganesh Kamath
(President)