ISSUANCE OF
CERTIFICATE OF ORIGIN
The Kanara Chamber of Commerce & Industry, Mangalore is authorized by Ministry of Commerce, Government of India to issue Certificates of Origin for goods exported from India. This facility is offered at a nominal fee.
Trade Agreements between various countries allow allotment of imports of certain quantity of a particular article/commodity from a specified country. Some Trade Agreements allow preferential treatment of customs duties if the article/commodity is imported from specific countries. A Certificate of Origin is an important international trade document attesting that goods in a particular export shipment are wholly obtained, produced, manufactured or processed in a particular country. Certificate of Origin also constitutes a declaration by the exporter and an important document for international Finance and Trade Transactions.
For the above purpose, the country of origin of the goods becomes necessary either for assessing the quantity or for customs formalities. In these cases, invariably the contracting Governments are required to specify certifying agencies in their respective countries to issue certificate of origin under Article 11 of the International Convention relating to the simplification of the Customs formalities signed at Geneva in 1923.
The Kanara Chamber of Commerce & Industry, Mangalore is issuing the Certificate of Origin (Non Preferential) as per authority bestowed by the Ministry of Commerce, Government of India, New Delhi, vide Notification No.50-TP(P) (12)/50 dated 3rd November, 1950 Communicated to KCCI by Sri G. S. Sharma, the then Asst. Secretary to Govt. of India.
Procedure / Documents to be submitted along with application
A covering letter to KCCI for issue of Certificate of Origin/Certification of copies of Invoices / Packing List etc. The letter should also indicate that the information furnished in the relevant documents is true and correct.
Application for Certificate of Origin in the following prescribed form duly filled up together with:
A copy of the Invoice bearing the certification of the Container stuffing officer from the Department of Customs or Central excise, as applicable.
A copy of the Bill of Lading.
Any other relevant document.
Note: Photocopies have to be attested by the Exporter / Applicant.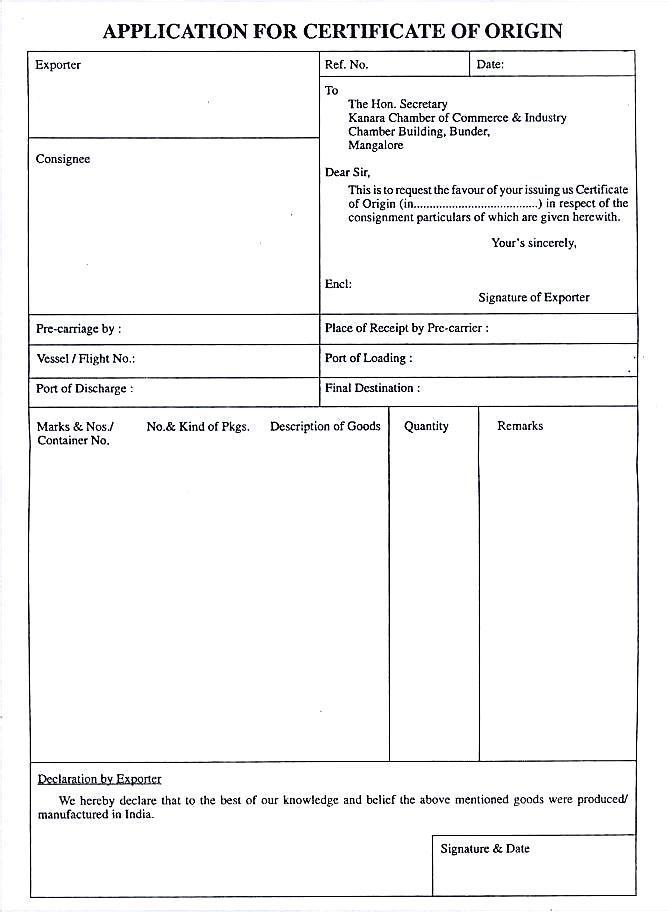 The fee charged for the issue of a Certificate of origin is
| | |
| --- | --- |
| 1 Original + 2 Copies | Rs.  100 .00 |
| SGST @ 9% | Rs.  9 .00 |
| CGST @ 9% | Rs.  9 .00 |
| TOTAL | Rs. 118 .00 |
| Extra Copies – per copy | Rs.  10.00 + GST |
The above payment may be made either in Cash or by Cheque / DD favouring Kanara Chamber of Commerce & Industry, Mangalore, payable at Mangalore.